To Pass Your Drivers Test The First Time Is Not Impossible
It may seem that to pass your drivers test the first time is an impossible feat, especially when you listen to your friends who have failed, driving schools who want to milk you for all you have and well the traffic department.
Do not let the fear of what the others say seep into you, causing you to stress unnecessarily and make mistakes which can make you fail.
There are many sources of knowledge you can consult which will give you advice, tips, information, instructions and guidelines on what to do, how to act, how to drive and how to pass your drivers licence.
Why do you want to spend countless of hours of Google wasting time and data when you can learn all you need to know right here with us.
[toc]
The 10 Tips You Need To Pass Your Drivers Test
There are few things which can influence you during your driving test, but we can take all the necessary precautions to ensure that your preparation is of such a nature that no influence is needed.
To Pass Your Test All You Need To Know Are These 10 Tips:
Start taking driving lessons for a period of time before your driving tests, preferably twice a week to ensure consistent progress.
Refresh your memory on the rules of the road and the road signs, as it has probably been a while since you wrote your learner's licence.
You cannot be late, it will not just make you stress and panic it can also result in the instructor denying you the participation in your test, so consult your diary when you make the test and be sure to grace yourself with the appropriate amount of time to complete your driver's test.
Ensure that you are familiar with the motor vehicle which you will be completing your test in, if you are planning on completing the test in a different vehicle than the one you have been practising in then be sure to schedule time with the vehicle in order to practice for the test.
There is a possibility of three routes which the examiner can take you on, ensure that you are acquainted with the different routes so that you do not get a surprise on the test day.
Study the pre-trip inspection requirements as it is the easiest section, and losing points on this section is unnecessary.
Be sure to arrive ahead of time, waiting in the waiting room with other driver's will calm you down.
The pressure placed on us by our friends and family can be maddening, so keep your test date a secret, tell as little as possible people so that the anticipation and expectation from friends and family are limited.
You are allowed to lose points, not all mistakes can result in immediate failure, so forget about the mistakes which you have made and focus on the road ahead.
Always remember your manners and remember to be courteous, thank your examiner for their time.
Driving lessons, refreshing your memory on the rules, practising and keeping your test a secret is only the tip of the iceberg regarding the preparation which goes into the driving test to ensure that you pass.
Following our 10 simple steps is an easy way to ensure that you are prepared for your driver's test.
The Checks For Your Pre-Trip Inspection
The inspection is the actions of checking the roadworthiness of the vehicle before the commencement of your driver's test.
If the motor vehicle does not adhere to the roadworthy requirements you can be disallowed to continue with your test will mean you will not be able to pass your driver's licence.
To pass the inspection, all you need to do is recite the checks, speak clearly and confidently and start the inspection clockwise of the motor vehicle.
11 Checks You Need To Know To Pass Your Inspection
Ensure that there are no leaks or obstructions underneath the car.
Check that the seat belts and the doors are in working order.
Ensure that the mirrors and the windshield are secure.
Check that the wiper blades are unparished.
Refer to the tire tread, that the pressure has been checked and that the wheel is secure.
Ensure that the headlights and the bonnet are secure.
Refer that the water, oil, brake fluid and fan belt has been checked.
The left side needs to adhere to the same requirements as the right.
Check that the licence disk is valid and that the petrol cap is secure.
Ensure that there are no cracks and that the back window, tail lights and boot are securely closed.
The back doors and tyres need to adhere to the same requirements as the front.
The inspection is an easy section during the test, take this chance to make a good impression on the examiner by knowing your checks without fault. Remembering the 11 checks is as easy as one, two, three so read them through a few times, recite them and ensure that you do not lose unnecessary points during this section which could contribute to jeopardising your chances of passing your driver's licence.
Keeping The Test In The Yard
After the completion of the inspection, the yard test will commence where your ability to alley dock, 3 point turn and the parallel park will be tested whilst following the rules of the road, traffic marking and completing your observations as if you are on the public road.
It is important to remember that you can be the best driver on the road but if the examiner thinks you have accidently brushed against one of the parking obstacles you will not pass the driver's test.
Guidelines Of What They Will Expect Of You In The Yard Test
The examiner will explain the procedures and requirements of the test before you start, it is thus very important to listen carefully to what he / she says as not to make unnecessary mistakes.
Ensure that you can perform the required movements whilst performing the observations and completing the signalling procedures.
Do not be afraid to stop the vehicle when you are afraid of a collision with obstacles, all you need to remember is following the correct driving methods.
During the yard test you are allowed to cross your arms while you turn the wheel, you are not required to use the push-and-pull methods.
Rolling in the opposite direction is reasons for immediate failure, it is thus important to maintain clutch control and the parking break.
Drive slowly with a controlled speed which will decrease your chances of hitting a parking obstacle which will result in an instant fail.
The guidelines have been simplified to make them easy to follow and understand, we want to make the driver's test experience as easy as possible, so stick to the rules.
Follow your instructor's instructions and use the driving skills and techniques which you have been taught and you will be well on your way to passing your driver's test with ease.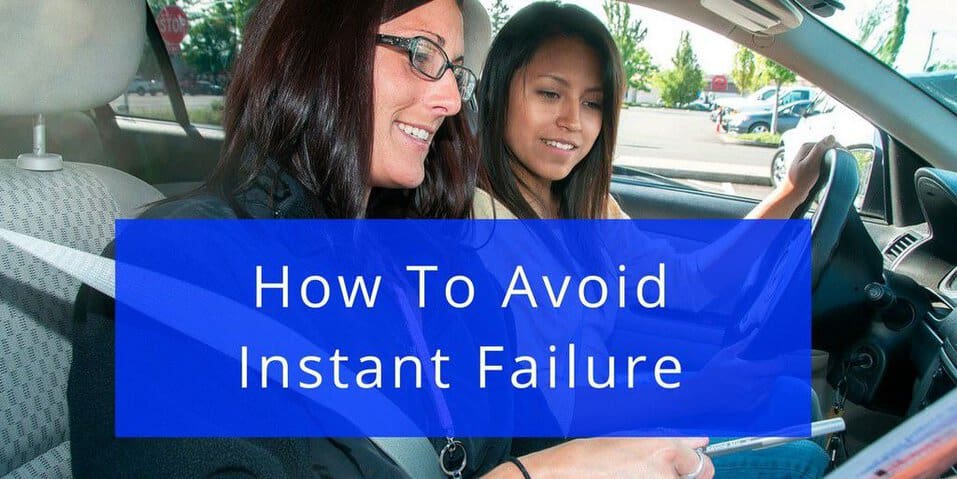 Failing the driving test before you have even had a fair opportunity to begin is a disappointment which very few people have the ability to process with a clear head, especially if said failure could have been prevented.
Take a moment to acquaint yourself with situations which will result in an instant failure, and prevent the inevitable disappointment of not passing.
Situations Which Will Cause Instant Failure
Usage of a vehicle which is not roadworthy or does not have a licence.
Using a vehicle which has a mechanical failure.
The violation of traffic laws, road signs, signals and road markings.
Driving in an uncontrolled or dangerous manner.
Colliding with objects which could have been avoided.
Mounting kerbs, bumping into obstacles and touching boundary lines.
Attempting a manoeuvre more than the allowed number of times.
Not controlling the vehicle and allowing it to roll forward or roll backwards.
Failing to demonstrate a hand signal upon the instruction of your examiner.
Exceeding the allocated 20 minutes' time limit for the yard test.
Making more than the allowed 50 point mistakes during the test.
Make more than 8 mistakes per minute.
An examiner cannot just fail you, they need a valid reason for disallowing your license and these reasons are usually hand in hand with dangerous situations which could possibly cause harm to other road users.
Aside from instantly failing your driver's test, there are other allowed errors which you can make, these errors will result in you losing points during the test by gaining penalty points.
Penalty Points Are Awarded
Performing an action which you should not have done.
Failing to perform a required action.
Not performing an action correctly.
A penalty point is rewarded when you are negligent during your driving, but it does not cause an immediately dangerous situation to other users on the road.
You are penalised to ensure that you are not negligent to the point of dangerous driving or a lack of driving skills. Too many penalty points awarded will indicate whether you can carry out driving skills which are satisfactory to a safe driving environment.
Let Us Show You What We Can Do For You
Now that we have shown you what we know, give us a call so we can show you how to pass your driver's test.
You can show you how to implement these tips and guidelines into your driving test preparations ensuring that you pass your test with ease the first time.
Make sure you read our driving school website design tips. Make sure you read our article on how to get cheap car insurance.